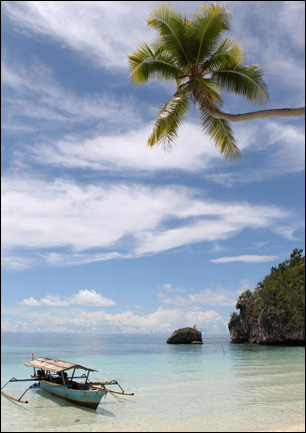 Hello!

This is not the official Fadhila Cottages web site. I have no connection with
this hotel, except that I spent there a fantastic week with Fabienne in august 2006.


We were the only guests... I put up this site to bring a little visibility to Fadhila Cottages.
Most travellers going to the Togean islands seem to prefer staying in Kadidiri island,
where are established the Black Marlin and Kadidiri Paradise hotels.

With its ten bungalows, Fadhila Cottages can't compete with the marketing and commercial strength of the Kadidiri hotels. But it has much more to offer! A true atmosphere, with simple pleasures, and the kindness and hospitality of the inhabitants of the islands.

Since 2006, things have changed. More bungalows, running water, diving... And now,
you can book by e-mail! (See Contacts.) There are also more people going there, specially
in July and August.
But the echoes I have from travellers lead me to believe it's still a small paradise.


In addition, another small hotel of bungalows, Bolilanga Island Resort, stands on
an island right beside Fadhila Cottages. It is a very pleasant and charming alternative,
with a lovely white sandy beach and nice snorkelling directly from the bungalows. They now have a website : www.bolilangaresort.com

The information you'll find here is regularly updated thanks to e-mails
people send me. So, if you go there, don't hesitate to mail me on your way back.
And I will correct any misleading information.

I hope this web site will be useful. Have a good trip!

Frédéric

PS: send me pictures if you have some. I miss this place...